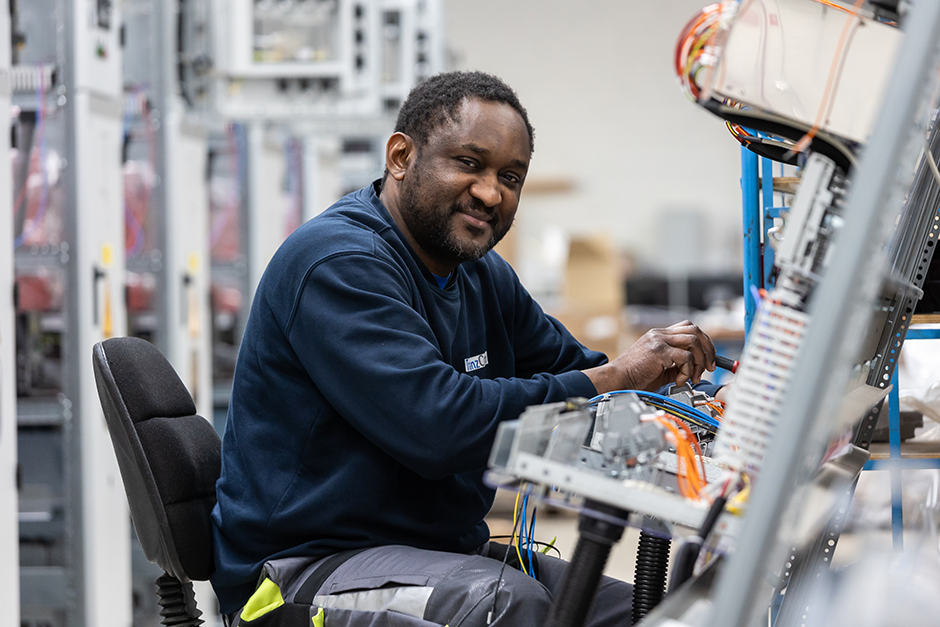 Cable installer
Do you have a technical or vocational diploma in industrial electricity? Do you want to turn the theory you learnt at school into practice in your working life? Are you of the opinion that efficient but secure work goes hand in hand? Are you fluent in French and Dutch? Then we'd like to offer you a job as a cable installer in our workshop in Asse, as part of TranzCom Energy.
Your tasks
You assemble electrical or electromechanical components in cabinets, equipment or on various supports (chassis, plates, etc.).
You prepare the wires (cut, number the wires, fit sheaths or connectors, etc.) on the basis of the mechanical drawing, electrical diagram, wiring plan or wiring list.
You connect components in compliance with safety rules and regulations.
You adapt the materials and fixing tools to suit the task in hand.
You carry out the tasks carefully and safely.
Your profile
You have technical or vocational training in a field such as industrial electricity.
You'll be able to read diagrams and hardware (industrial components such as circuit-breakers, relays, programmable circuit-breakers, etc.) with ease.
You keep track of your projects and are therefore highly organised and structured.
You are persistent and enjoy working in a team.
You have a very good level of French and Dutch.
We offer
A stable job in our fast-growing TranzCom Energy Business Unit.
A job with a wide variety of
A full-time job with competitive pay and fringe benefits.
A corporate culture characterised by values such as autonomy, responsibility, solidarity, entrepreneurship and trust.
Come on board and discover « the VINCI Energies way of life »!
Do not hesitate to apply online or send your CV and cover letter to avalon.verrijken@vinci-energies.com
Who are we?
TranzCom is an electrical equipment manufacturer and integrator offering turnkey solutions. We provide the energy, power and utilities markets with a complete range of medium and low voltage products and solutions. We offer state-of-the-art solutions and cost-effective maintenance services to preserve the long-term value of your equipment.
VINCI Energies Belgium has 6 perimeters in its organisation. In our Infra & Telecom perimeter, we offer services in four main areas: aerospace, mobility, energy and telecoms. Our brands are Cegelec, Omexom and TranzCom. We currently employ 350 people and generate sales of €65 million. Our sites are located throughout Belgium, with offices in Gosselies, Zwijndrecht and Asse.